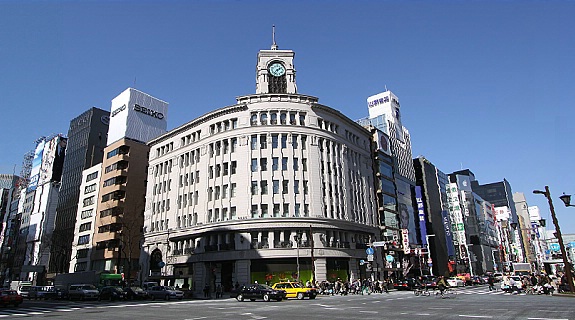 One of the things that most tourists do while in Tokyo is to go shopping. Tokyo is home to several shopping districts, with each district having its own specialty. Akihabara is known for its gadgets and techie stuff, while Shinjuku and Shibuya are known for trendy clothes for younger people. Odaiba is also a popular shopping district as well as a destination for people looking for new places to dine in. Ginza is known for its high-end brands, restaurants and cafes.
Ginza is one of the most expensive places in Japan, both literally and figuratively. Land in the area is the most expensive in real estate in Tokyo, and even the origin of the area's name ("ginza" means silver mint) gives off an air of affluence and being expensive. Ginza used to be the site of a silver coin mint from 1612 to 1800, and has transformed into a shopping district after the Great Kanto Earthquake in 1923. Since then, it has become one of the most popular shopping districts in Tokyo, especially for Western brands and styles.
The district's popularity has been well-established that some roads are closed just for pedestrians during weekends. If you are planning to visit Ginza, you might as well schedule your trip on weekends, so you can enjoy the privilege of walking along Chuo Dori without having to worry about vehicles.
Once in Ginza, you'll surely notice the Ginza Wako, an old clock tower in the district that has become Ginza's symbol. Located in the center of the district, the building not only houses the clock tower, it is also home to some luxury brands and jewelry shops.
Sony is one of Japan's most popular brands, and it is not surprising that it has its own building in Ginza. The Sony Building stands prominently in Ginza, and it is where you can find the latest products from Sony, like mobile phones, televisions, DVD players and other gadgets. There are also some restaurants and cafes in the building, perfect for those gearing up for an adventure in the Sony Building.
Ginza is home to some of Japan's most popular shopping mall chains such as Mitsukoshi, Matsuya, Matsuzukaya and Hankyu. These mall chains are well known in Japan, and just like most shopping malls, they house different products ranging from personal items to household items and even sport and recreation products. Marronnier Gate and Printemps, on the other hand, are foreign department stores. Most foreign brands can be found in these two department stores. Aside from all the shops that you'll find from these department stores and shopping malls, you'll also find cafes and restaurants inside these buildings.
The Police Museum and the Kabukiza Theater can also be found in Ginza. These are a welcome break from all the shopping that you can do there. You can visit these places before shopping for more fun and excitement in Ginza.