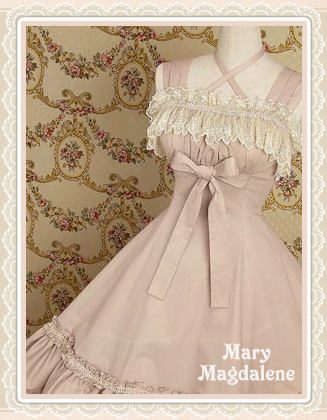 Ladies who are inspired by the Lolita fashion will certainly fall head over heels with Mary Magdalene, a famed Japanese clothing brand launched by Rieko Tanaka. The brand's mission is to prettify the fashion world by creating sophisticated pieces in soft pink, lavender, deep blue, and crème white.
With Mary Magdalene, you can have a classy garb that will make you look like a royal icon. The label mostly sells buttoned tops with peter pan collars, bell-shaped skirts, frilly dresses, and coats with ribbons. To complete your sweet and stylish look, accessories like headdresses, floral barrettes, bags, and socks are also sold. Despite the fact that the shop is Japan-based, foreign customers can take advantage of the worldwide shipping.
Mary Magdalene is one of the Lolita brands that many girls dream about. While the prices might be steeper as compared to other labels, what makes Mary Magdalene clothes desirable is their timelessness. You can wear a dress over and over and still leave spectators in awe.
It is likewise a mystery how the clothes seem to flatter anyone who wears them. It's like you don't even need to exert much effort to look dolled-up. For a dose of femininity, Mary Magdalene is ready to cater to your needs.