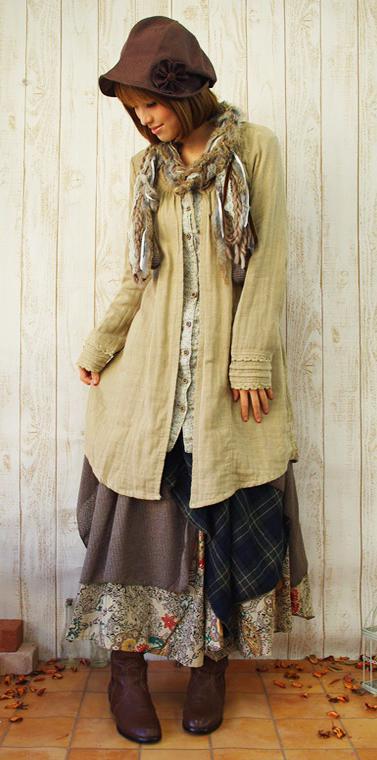 For many years, Japanese fashion trends for twenty-something ladies have often veered towards the minimalist. That is, minimal coverage, minimal material- with the unforgiving styles on offer, it's not surprising that diet packages sit side by side with youthful cosmetic ranges.  In contrast to the women parading the latest form-fitting offerings, mori girl style, which emerged as a sub-cultural movement around 2007, offers an arresting fashion contrast. Their name translates as 'forest girl', and though the style originated on the streets of inner city Tokyo, mori girl fashion represents a desire to be in touch with nature. Mori girls favour earthy colours and natural materials, gently layered and accessorised with flat shoes and simple leather shoulder bags to create a soft, countryside look. This being Tokyo, even the natural fashion look is given a  stylish twist, with polka dots, cute animals, classic floral print and lace lending a rustic fairy tale vibe to this subculture, while hair is worn on the longer side, generally in relaxed waves. Typical mori girl personal style flourishes might be a fluffy cap, bolero, or wrap around scarf.
Whilst their garments would usually be modest and soft, amidst all the glitz and lycra of the Tokyo youth fashion scene, mori girl style is perhaps one of the most rebellious Japanese fashion trends for women. Mori girls reject cutting edge disposable trends for more individualistic pieces, seeking comfort over dressing to impress the opposite sex.


For some, mori girl style crosses over from fashion to a whole lifestyle, characterised by a preference for quirky activities such as vintage shopping, afternoon tea or hunting for antiques. In the midst of the hustle and bustle of the bright lights and exhibitionism of Japanese fashion trends, in embodying mori girl style, many feel like they are being truest to themselves.  Japanese actress Yu Aoi is often cited as perfectly capturing the mori girl spirit, both in her unusual yet charming fashion choices, which have made her the darling of brands such as Journal Standard, and also in her choice of film roles, which tend to celebrate the joys of small and beautiful, but all too often overlooked moments in life. Ultimately, mori girls put embracing the simple pleasures in life over gaining the attention and approval of others, and in doing so, find peace within themselves.