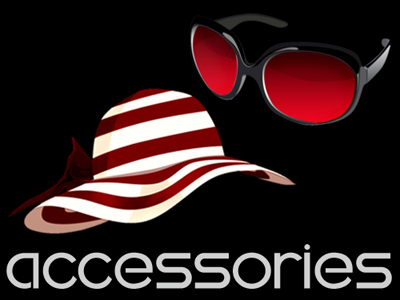 In addition to the more obvious items such as shorts, t shirts and dresses, summer wardrobes also need accessories that are practical but most importantly look good.
One of the most essential summer accessories is a decent pair of sunglasses, ensuring your eyes are protected from blinding sunlight. Sunglasses are available in many different types of styles. One popular trend this summer is colored lenses which come in purple and pink shades. In terms of shape the sleek cat eye frames are popular as well as smaller frames which is a departure from last years oversized frame styles. Another 2011 style is the retro look, with classic styles once favoured by French film stars in the fifties and sixties becoming popular once more.
Sunglasses are not the only essential summer accessory. Hats are also very important for keeping cool, avoiding sunburn and just looking great. The trend this year is wide brimmed sunhats made from a number of different materials, most commonly woven straw. For sport, the favorite is still baseball caps but many now incorporate special fibres to keep the head cool and reduce sweat.


When the sun comes out, so does the summer jewelry. No longer hidden under jackets and scarves, jewelry gets a chance to shine. As with other summer accessories, it`s all about bright colours designed to make a statement and look good. This year, summer jewelry is all about floral themes with flowery pendants and patterns with a strong influence from the Middle East resulting in beautiful ornate patterns and metal work on bracelets and pendants. With all these accessories, you`ll need something to carry them around and there are a wide range of beautiful summer bags which are perfect for the job.
This year, the beach bag trend moves away from the traditional straw bag to more robust materials such as canvas. However, bold patterns and colours are still in and many designers are opting for unusual prints this year. It`s also important to be stylish off the beach and this year`s summer trend is all about long drop handles, bright colours and traditional handbag shapes.
Finally, carefully chosen summer footwear will ensure that your feet stay cool and comfortable and the most popular form of summer footwear is, once again, sandals. These range from basic flip flops and leather sandals through to toning sandals which firm your body while you walk. Basic flip flop styles for this summer incorporate exciting colourful designs on the foot bed while leather sandals typically feature an ankle strap and a variety of different toe thongs to provide a secure but stylish fit.