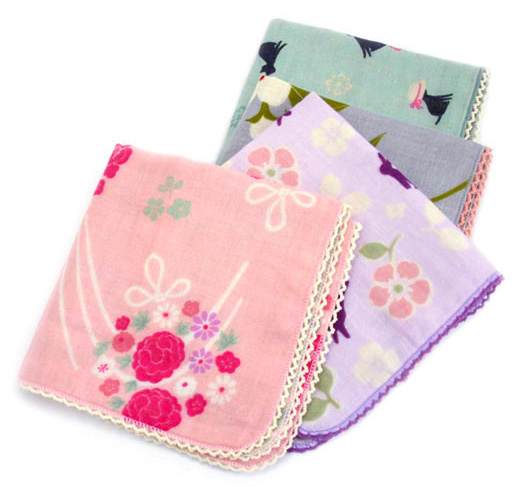 If you have ever experienced a typical Japanese summer, you will know what this essential Japanese accessory is. A handkerchief towel is quite literally a handkerchief made of soft absorbent fabric like terrycloth. Men and women will carry at least one with them everywhere they go, and summer is the number one season to have them on hand. They are very useful for wiping up sweat so that you don't end up looking like you've just gotten out of the shower. This is an essential accessory item for business, since most Japanese business people are required to wear suits… even when the temperature reaches heights of 36C+ (not to mention the stifling humidity).
You can find a wide range of handkerchief towels pretty much anywhere you go. You can choose from a variety of colours, patterns, fabrics and styles. For men, there are many designer towels in pinstrip, checkered, gingham and paisley print from top designers like Dolce Gabbana, Louis Vuitton, Calvin Klein and more. As usual, the ladies have an endless amount of handkerchiefs to choose from. You can get any colour, pattern, designer and style you could possibly imagine. For men, designer handkerchief towel prices generally range from 800 yen to 2,000 yen each. For the ladies, handkerchief prices usually start at 300 yen to anything up to 5,000 yen.
The best places to find designer brands is in department stores like Isetan, Marui, Lumine and Parco. For non-designer brands, you can find many adorable styles in shops like Muji, Uniqlo, Shimamura, the 300 yen shop and Daiso.