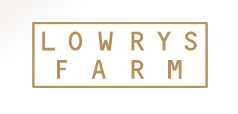 Fast fashion stores, much to the distaste of the old Tokyo style vanguard, are seemingly taking over the streets of Japan. Along with hugely popular foreign imports such as H&M and Forever 21, home-grown Japanese brands are also surfing the wave of demand for stylish yet affordable fashion.
One of the most successful Japanese fashion brands is  Lowrys Farm, and its  aim is to provide customers with fun casual clothes that also have the feeling of stylish, 'must have' fashion items. Managed by Japanese fashion powerhouse Point Inc., Lowrys Farm designers use loose cuts, soft colours and relaxed fit denim to create low key interpretations of the latest Tokyo street fashions.
Lowrys Farm currently has two contrasting style concepts- 'British Layered' and 'Retro Cowgirl'. The 'British Layered' look marries masculine cuts with clever layering to create a retro girly style, whilst 'Retro Cowgirl' draws inspiration from the clothes of the American Wild West.  Key pieces for this season's collection are mini leather satchels, pleated ribbon neck ties and items in classic tartan, polka dot and animal prints. The clothes lend themselves to mixing and matching, allowing shoppers to create individual looks at relatively low prices.
Unlike many high end brands, Lowrys Farm utilises the direct feedback from its customers to plan new lines and catalogue, with store girls conducting regular in store surveys, and a highly interactive store website featuring a blog with open commenting and rating systems on their latest collection. In keeping with this down to earth approach, Lowrys Farm catalogues have a chatty, light hearted tone, with quizzes and puzzles interspersing the traditional photospreads.
This extensive customer interaction has clearly paid off- Lowrys Farm has over 100 stores in Japan, and occupies significant floor space in Point Inc's huge flagship store on bustling Meiji Dori. Even as shoppers queue round the block in Harajuku and Shibuya to get inside the latest international arrivals, the unique niche which Lowrys Farm has carved out on the affordable Tokyo fashion scene will no doubt ensure that it continues to fight off even the trendiest of competitors.