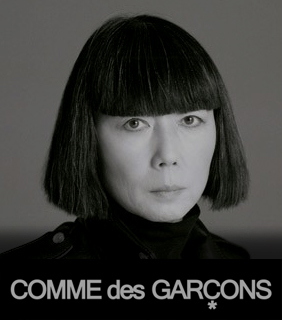 A Japanese fashion designer that has really shaped the fashion world. Rei Kawakubo is a true artist. Totally original and faithful to the perceivable and undecipherable, which is why her creative pieces can never be predicted -they are just beyond our expectations.
She is the creator of the famous Japanese clothing line Comme Des Garçons, and the one responsible for the unwavering foothold of the brand in the fashion world today. Each CDG garment is meticulously and intricately designed, with each piece blueprinted in the mind of the designer and her apprentices Junya Watanabe and Tao Kuriha.
Early creative direction of CDG is maneuvered by Rei Kawakubo, yet later on these two apprentices started making their own collection as Comme Des Garçons sub-labels.
The main brand concept is based on non-conformity with the norms of the fashion world and in a larger sense, society. You may notice that each garment is created in an unstructured manner and how each piece is on the flip side of what's mainstream. Ironically, Rei's concept of the label receives warm appreciation from fashion lovers within the designer-label world.
Comme Des Garçons stores are found in fashion centers and business districts of London, Paris, New York, Hong Kong, Seoul, St. Petersburg and several districts across Japan. The label also has firm ties with renowned brands like Fred Perry, Louis Vuitton, Levi's, Lacoste and H&M.