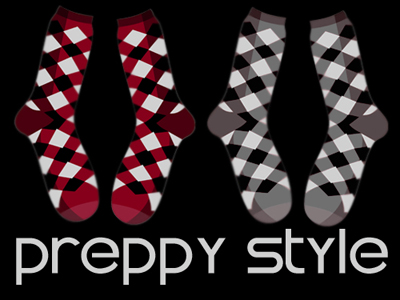 To be honest, in Japanese fashion, preppy style has never really gone out of fashion. The crisp American styling of button down Oxford shirts, loafers and chinos are eternally popular, but right now the Preppy look is enjoying an immense surge in popularity. Reminiscent of yachting and Ivy League schools, the Preppy look is a must for guys who aspire to the finer things in life.
Preppy classics such as Tommy Hilfiger, Lacoste and Ralph Lauren are the epitome of middle class American style but for those with their finger on the pulse of what's hot will know that there is more to the Preppy look than just having the right label on the breast of your shirt. Instead, preppy fashion is more about the line and styling of an outfit. Never flashy, always understated, preppy fashion is about craftsmanship rather than sharp creases down the front of your trousers. Functional and smart are the key phrases to bear in mind when going for the preppy look. Dressing preppy is about wearing classic and clean cut clothes which will stand the test of time.


Loafers, nautical styles, cable knit sweaters and the timeless polo shirt are all must have items. For the classic Preppy look it's more about wearing outfits that are put together well rather than wearing the right labels. The mark of a true Prep is the ability to take things from the past and bring them to the present with a contemporary twist.
Preppy is a fantastic fashion trend for men who want to dress well without becoming victims of fashions latest trends and tyrannies. Today more than ever guys are taking an intense interest in what they wear and the preppy look is the perfect antidote to the over stated, label heavy, quick to go out of fashion items that on offer from many men's outfitters. By going for the Preppy look a world of understated refinement is available to suit your sartorial sensibilities. Khaki pants instead of jeans, offer a much crisper yet still casual look. A blazer or button up sweater is a must. Even if it's warm then a sweater tied around the shoulders is the epitome of the classic preppy look. Loafers are the only foot wear that should be worn, unless going out yachting for the day in which case deck shoes are an acceptable substitution. Of course the most classic item of preppy clothing is a selection of Tommy Hilfiger, Ralph Lauren or Lacoste polo shirts in a variety of colours. With these key signature pieces in your wardrobe, you will look well groomed and sophisticated in any situation.