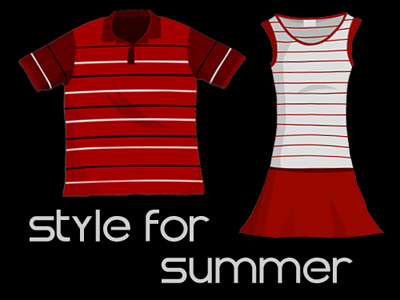 Summer 2011 in terms of Tokyo fashion is very much the season of the bold colours and patterns, of big hats and high waisted trousers. Fashion is taking a retro look at the 60`s and 70`s and creating contrasting styles with hippie and biker fashions of the 70`s meeting the ladylike styles of the 50`s and 60`s on the catwalks this season.
Bold colours and large belts are forming the mainstay of the catwalks and streets of Tokyo at the moment as subtlety is replaced with strong acid colours that look great on the summer beach. The cuts are for floating styles, wide legged and flared trousers as well as tighter Capri pants and a new influx of leather that is reaching the catwalks in the form of the biker trend replacing the cultivated military style which has been in and out for the last ten years or so.


Stripes make an appearance every summer and this year they are bigger then ever. With large horizontal striped dresses, tops and jerseys, this is becoming the quintessential look for summer 2011. On the beach this can be coupled with a big brimmed hat and a large pair of bikini bottoms or hot pants to provide one of the prime looks this summer. The sailor style is definitely back and it is back with a vengeance. Small fascinator hats have been replaced with large brimmed styles that will provide the dual function of providing a large sun block. Large sunglasses to compliment this look are still very much in and provide a sophisticated accompaniment to any summer style.
In terms of men`s styles, the fashions have changed, but changed subtly, as they tend to do. Casual and sporty is very in, as the catwalk shows off the casual trousers and sandals style. Combined with a sweater or a casual shirt, these make up the beach holiday style of 2011. In terms of trousers and jeans, skinny jeans have had their day and boot-cut and flared is what`s making its mark on the latest catwalks of the season.
The biker style that`s made an appearance in Japanese fashion is showing up in the men`s styles too, with a large number of leather jackets making an appearance this season. While in women`s styles the biker look is extending to the entire outfit though; the style is purely centred on the jacket in the men`s styles. Military fashions are not so passé amongst male trends though and the military look is quite strong amongst the fashion magazines and on the catwalks this summer. The casual-chic look is very present amongst men`s styles this summer and Humor jeans sale feature many of the latest styles in jeans and casual wear.