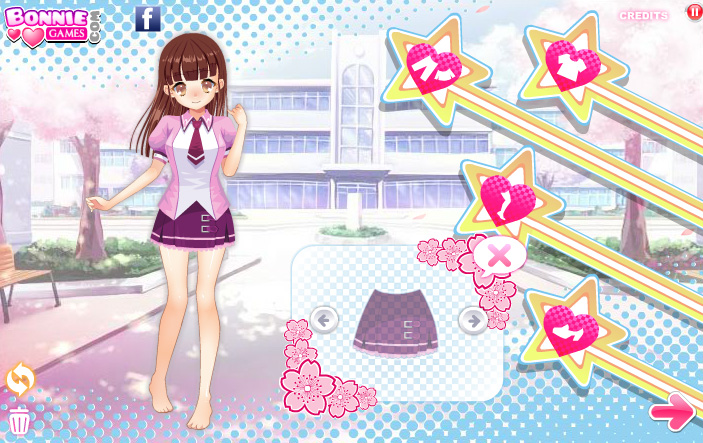 One of the most common games that girls play is to dress up their dolls. You surely have experienced buying small dresses and gowns for your dolls, or having your older sister/mother/grandmother make doll dresses for you. Playing dress up is fun and it would surely help a girl develop a good fashion sense. In some cases, young girls even wear their mother's or sister's clothes and make up in a cute attempt to look "grown up".
With the advent of tablets, smartphones and handheld gadgets, girls get to have more options with fashion games. They wouldn't have to bug their parents to buy them more clothes for their dolls. Instead, they'll just ask their parents to download some fashion games on their gadgets and they can have almost the same experience of dressing up their dolls.
Here are some popular fashion games for girls.
Fashion in Tokyo is a dress up game where you choose the perfect outfit for your virtual character, which would embark on a journey to Tokyo's best and trendiest streets and shopping malls. Make sure to make your character stand out with his/her clothes without making her/him look weird and out of place.
Other similar games are Chinese Fashion, Spring Fashion, Vintage Fashion and Thanksgiving Fashion, among others. These are all dress up games, but with different themes. Choose dresses and clothes depending on the season or event. Have fun creating the perfect wardrobe for your character.
Frankie Stein Fashion is a fashion game that follows the story of Frankie Stein, the daughter of Frankenstein. She studies in Monster High and spends time with her friends and her puppy, Watzit. Help her find the perfect outfit for her weekend with her parents, who she decided to visit.


Sailor Fuku Sahion Makeover is a fun game that lets you style the typical Japanese manga school uniform. Add accessories and other items to make your character stand out in her school uniform.
Fashion Shoes Design and Dress My Fashion Boots let you create your own shoe designs. With these games, girls can be creative as they design their own shoes. The goal of the game is to have fun and to create a design that nobody else can think of.
These are just some fashion games for girls. There are still a lot of other games that would bring out your girl's fashion sense, creativity and personal style. Just visit your app market and make your girl happy with these fashion games.