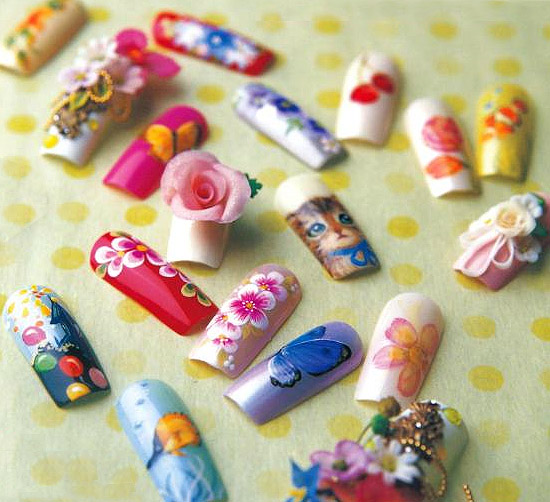 Embellishing one's nails is definitely considered stylish. One of the most popular inspirations for nail arts is the Japanese Kawaii culture. Basically, "Kawaii" pertains to anything that radiates a sweet and lovely charm. You can easily distinguish a Kawaii nail art because of its vibrant colors and detailed designs. Any Japanese nail artist knows that simple coatings of polishes are not enough. However, you don't need to be an expert if you want to prettify your nails.
First, choose a base color which you really prefer. Keep in mind that if you are aiming for Kawaii nail art, then there is no room for dark or vampy colors. Opt for subtle but dainty polish colors like baby pink, sky blue, and lilac. After the base coat application, now you can go all out with designing! If you want to draw figures, use pointed brushes for precision. On the other hand, there is an endless selection of nail accessories like stickers, appliqués, feathers, and jewels. The best part is that these things are applied in a hassle-free way. Just stick them and you're done. Lastly, seal your creation with a clear glittered topcoat to prevent chipping.
Kawaii nail art is not a difficult thing to master. With a bit of imagination and creativity, surely you can give your nails a gorgeous and glamorous vibe.