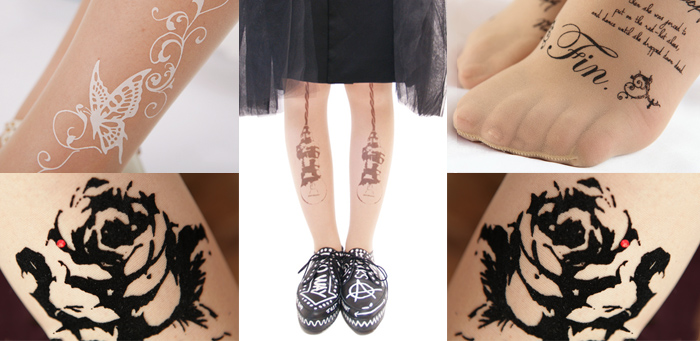 Like the idea of tattoos but don't want anything permanent? Now women can enjoy decorating their bodies with tattoo stockings! They are one of the hottest trends on the streets of Tokyo and they look adorable.
You can get stocking in a wide variety of colors and choose from a huge selection of faux tattoo styles from Alice in Wonderland to hearts, flowers and animals.
The stocking themselves are made in a very clever way. While most printed stockings have a very sharp and solid outline, the tattoo styles are designed to look natural on the body, with soft outlines and uneven coloring. They are sweet, sexy and make any outfit look fun and unique!
Most shops that carry socks and stockings will have them, but if you're looking to buy tattoo stockings online
, you can easily find them on Amazon and Rakuten sites.