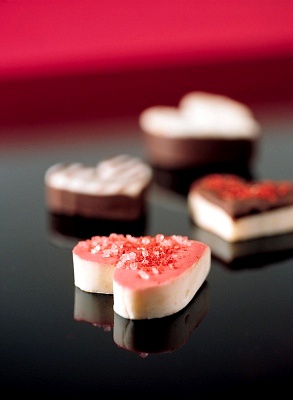 Valentine's Day in Japan is more or less like in other countries, except for the fact that February 14th is generally the time women shower men with beautifully decorated chocolates.  While it is a time to show men how much they are loved, it has also become a time when women in the workplace are obligated to give sweets to their boss and co-workers, whether they want to or not.
It's at this time of year that every chocolate shop in Tokyo is filled to the brim with ladies looking for the perfect chocolate delights for the men in their lives. Not to worry ladies, although women don't get to enjoy the delicious desserts this time around, women have a chance to get spoiled with  lovely sweets on March 14th, when "White Day" comes around.  White Day is strictly in Japan and has been the equivalent of Valentine's Day since the late 1970's.
If you are in need of something sweet for your #1 man, check out the top places in Tokyo for high-end delights:
Located by the 'Southern Terrace' Exit of Shinjuku station, Takashimaya is a huge shopping mall that consists of 15 floors of clothing, housewares, gadgets, designer fashion and food -lots of food. The top 3 floors are full of restaurants from around the world. The basement is packed with food stalls, produce and lots of beautifully decorated sweets, both traditional Japanese and European. Prices will vary, so make sure to walk around and see what's available.
Just a few minutes walk away from the bustling Takeshita Street in Harajuku, Omotesando Hills has a totally different vibe with a very different clientele. Here you will find 6 floors filled with lots of designer fashion styles and gourmet chocolates that will surely cost you more than a standard box of chocolates, but your sweetheart is worth it, right?
If you are looking for class and sophistication, then Printemps in Ginza is perhaps the best choice for you. There are 9 floors full of designer brands, haute couture and some of the finest sweets created by the best chocolatiers in the world. Be prepared for hefty price tags though, this kind of beauty comes at a cost.
Located right in Tokyo train station, Daimaru is a busy 14 floor mall that
pretty much has anything you need. Tons of designer fashion, fashionable shoes and accessories and a several areas to purchase beautiful chocolates for your special someone on February 14.
Located right by Roppongi Hills, Tokyo Midtown is a modern and stylish building that has 5 floors of shops, galleries, and food stalls. Here, you'll be able to find many different products from Japan, Europe and the US.