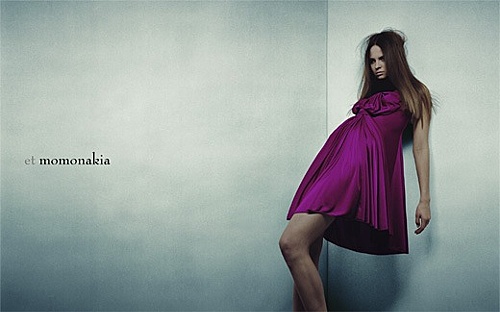 Et Momonakia is a brand that's popular for women in Japan. The brand's concept is a mixture of playfulness and elegance, something that its designers have successfully accomplished. Led by Joga Naoto and Tamaki Hiroto, et momonakia has further garnered attention due to being selected as Mercedes-Benz Presents Designer for this year's Spring/Summer Fashion Show.
Both Mr. Naoto and Mr. Hiroto have previous experience working with popular French brands. Mr. Naoto worked with Lanvin, while Mr. Hiroto worked with Balenciaga. With their past experiences, they were able to fully combine elegance with playfulness, as can be seen in their collections.
When asked how they develop concepts for their collections, they admitted that they ask their whole team for input. They also tend to work on lyrics of songs by Yamaguchi Momoe or Nakamori Akina, and they would loosely base their concept and theme based on the chosen lyrics. In fact, their brand name came from the name of their two favorite singers.
According to both Mr. Naoto and Mr. Hiroto, they originally wanted to create a Japanese luxury brand. They noticed that Japanese fashion tend to be very casual, and in order to incorporate a little elegance with the common casual fashion in Japan, they created dresses that are comfortable enough to wear every day. This is to encourage people to dabble with their fashion sense and wear something more elegant yet still casual.
Aside from combining playfulness and elegance, the designers of Et Momonakia aims to create clothes that can last. They don't usually follow trends. Instead, they try to design clothes that can be worn as trends come and go.