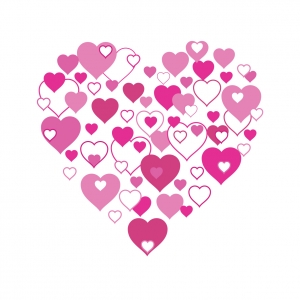 Valentine's Day is just around the corner, and next to New Year's Day (and Christmas Day, for Christians), it is one of the most popular (and widely celebrated) "holiday" in the world. On Valentine's Day, it is a custom for people to show their love to their friends, family and special people. However, the common Valentine's Day custom in the Western world is not as common in some countries in Asia, especially in South Korea and Japan.
In the US (and in most countries), Valentine's Day is celebrated by sending chocolates, flowers or cards to your special someone, and in most cases, special dinners are offered in most restaurants, especially for couples who want to spend the night together. However, these customs are not common in Japan. Valentine's Day in Japan is all about chocolate. Most women give chocolates not only to the men they like, but to their male c0-workers (or classmates) as well. This is called giri-choko, coming from the Japanese word giri, which means obligation, and choko. In a nutshell, giri-choko is obligatory chocolate, given to all male co-workers or classmates as a sign of gratitude. It is different from honmei-choko (favorite choco), which is given to a special someone. Tomo-choko is the kind of chocolate given to a friend. With lots of chocolates going around, it is not surprising that Japanese chocolate companies earn half of their annual sales on Valentine's Day.
Now, before you think that it is unfair for women if they give out all the chocolates without receiving something in return, you must also know about White Day. Celebrated every March 14, White Day is a sort of an "answer day", a time when men give something to the women. Usually, men are expected to give something more valuable than what they receive, and if they give something cheaper, then the recipient may feel bad about it.
There are a lot of chocolate companies in Japan, as well as shops that sell specialty chocolates. Some of the places that you should visit for chocolates are Chocolate de H in Roppongi, Takashimaya in Shinjuku, Printemps in Ginza, The Ritz-Carlton and Tokyo Midtown. Remember, there are different kinds of chocolates for different kinds of people in your office or school, and make sure to give the appropriate chocolate so as not to send a wrong message. Men can also tend to misunderstand some things, especially when they receive chocolates from a beautiful lady. If you will be giving some chocolates to the man of your dreams, make sure that he can distinguish how special he is based on the chocolates that you gave him. Who knows, you might receive a surprise on or before White Day.
With Valentine's Day just a few days away, make sure to buy all the chocolates that you need. It is better to shop early so you'll still have a lot of choices and options on what chocolates to buy. Enjoy shopping, and enjoy Valentine's Day.