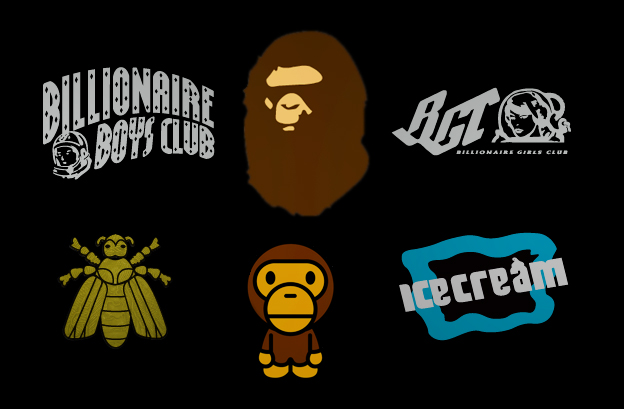 Each Japanese street style is unique and creative, which is usually enough to gratify the taste of a specific niche. Although this is the case for the majority of Japan's street fashion, there are some designers who are able to conquer the entire world. Few Japanese brands made it to the global market, but when one does, it usually takes it by storm.
BAPE is on the top of that list to literally take over the world, almost overnight. Short for A Bathing Ape, BAPE is a clothing line owned by the Japanese fashion mogul and Teriyaki Boyz disc jockey, Nigo (Nagao Tomoaki). He is a normal guy who fixed his eyes on fashion from early in his life and found a way to become one of the youngest billionaires in Japan.


The main line is streetwear and ironically, the direction of Nigo's brand rests on exclusivity. Although he produces casual clothing like sweatshirts, hoodies, sneakers, t-shirts and jeans, he maintained the idea of exclusivity by producing garments all falling into the limited-edition section. Everyone bought the idea, especially famous stars like Jay-z, Pharell Williams, Young Jeezy, and Jermaine Dupri. Nigo is a true artist who is truly original with his marketing strategy.
The meeting of Nigo and Pharrell of The Neptunes sprout another wonderful brand, the Billionaire Boys Club (BBC). These two billionaires started up a luxurious clothing line for men and women.
BBC produces Japan-made streetwear clothing like shirts, jackets, shorts and jeans, as well as sneakers and accessories. Skateboarding personalities like Terell Robinson, Jacob Walder and his brother Kato Williams are into the brand because of the same reason as pretty much all of the other clients -its absolute exclusivity.
Although streetwear is already a popular fashion genre among designers and brands, the Japanese were able to radiate in the realm through their creativity and originality. Perhaps, BAPE and BBC are the strongest Japanese fashion brands that show off true Japanese streetwear style.